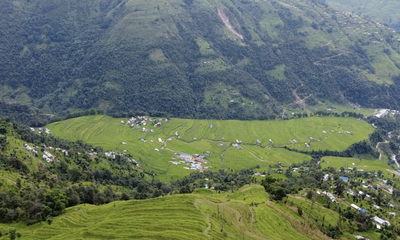 Business ventures bringing freedom in the Himalayas
Central Asia
Join a PI team that is working among the least-reached using business as a way to provide freedom and hope to those that need God's light.
Our area of focus includes many strongholds in Hinduism as well as Buddhism with animistic behaviors. Local witch doctors may be called to make an animal sacrifice to heal an illness. Many people live off of the land they have and may not even have enough money to go to school. And almost every household has someone missing - someone who is enslaved in the human trafficking industry and now living in a different country.
Our main focus includes using business as a way to gain access to this area as well as to bring light into these dark places where human trafficking has left its mark. Through our business, we employ girls who are most at-risk of being trafficked, train them to sew and make handicrafts that we export internationally, and teach them basic education skills as well as stories about God.
Although the business has been established for over 13 years, our prevention work in our current area of focus began in 2018. After 3 years of living in this remote village, we have seen fruit already - all of our current staff are now believers and have been baptized! So our vision moving forward is big: 10-10-10. 10 more village offices in the next 10 years in 10 different villages!
With a big vision comes a huge need to have other people catch this vision and join us in going to these remote areas to see more of God's kingdom come! We will be living out in a village office on a large plot of land with hopes to use the land to host teams to come and pray over the area, grow our own vegetables to sustain all our future offices, and bless our local community through outreach projects, resources, and activities.
Anyone with the following skills or passions could be of great assistance:
Education (teaching weekly class times with the staff and tutoring kids after school)
Medical (treating wounds and injuries for the community since there is no hospital nearby)
Agricultural (starting greenhouses and growing enough vegetables for all our offices and guests)
Hospitality (managing travel details, assisting with guest services, and facilitating activities)
Short-term workers are welcome to help bring new life and energy into this work!
Long-term workers are greatly needed to help sustain this long-term vision!
Above all, those who consider themselves "learners" (open to seeing things from others' perspectives) as well as those who value prayer, unity, and resilience just like us, are what we are searching for!
If you think you might be a good fit for this team, get in touch with our team to find out more.
Not exactly what you're looking for? Pioneers has hundreds of cross-cultural mission opportunities available – far too many to list on our website. Get in touch with our team to find an opportunity that's right for you!
Candidates will need to raise financial support to join this ministry.
Photo by: Anonymous
SKU: 10000-1